SILVER WINNER: Vestas — Unconventional Wisdom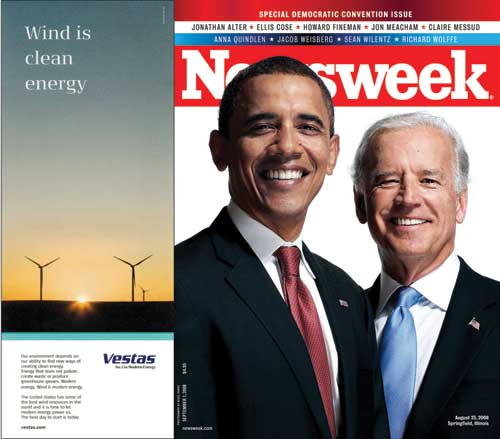 Client: Vestas

Entrant Company: Newsweek, Inc.

Entry Category: A Local Execution of a Multinational Campaign

Names to be credited with submission:
• Una Durkin — Regional Sales Director London, Newsweek International
• Rhona Murphy — Publisher/Managing Director, Newsweek International
Time Period of Campaign: 2008

Case Study Summary:

Marketing Situation: Vestas is a modern energy provider and a leader in wind energy. Yet, their international recognition, specifically in the US, was relatively low.

The company's key goal was to proactively influence tomorrow's political decisions to ensure stable and predictable markets for wind energy. As a result, Vestas' advertising campaigns are fact-based. They target opinion leaders and political decision-makers involved in future energy sustainability, as well as potential investors.

The marketing goal was to create a modern, "of the moment" campaign with a high profile burst of activity.

Key Insights: Vestas recognized that one way to increase their awareness in the US and inform a high level audience was to reach their targets in new ways and new places—just as they were receptive to thinking about important issues. At that time, there was nothing more "of the moment" than the US elections.

Media Strategy: Newsweek attained distribution at both the Democratic and Republican Conventions in the US, and delivered a daily newsletter called "Unconventional Wisdom" for delegates, officials and the media. Each morning 11,000 copies of this newsletter were distributed at the convention halls and at the delegate hotels. Vestas was the sole advertiser within the newsletter-- giving them 100% ownership of "Unconventional Wisdom." This provided an opportunity to reach these "opinion formers" in a political environment with an eye toward the future.

The newsletters were produced and distributed in addition to the Newsweek issues which were editorially focussed on each convention. Vestas ran a full page of advertising within the magazines, which were bound with a Vestas half-page cover wrap.

How Could this be a Template for Other Campaigns or for World Class Standards? Quick turnaround is critical. It was only a matter of weeks from idea inception to campaign implementation. The topic was hot, Vestas' message was relevant, and the environment for distribution could not have been any closer to the ground!

Working closely with editorial enabled immediate print execution of the daily newsletter, 24/7 online updates and continuous streaming of video content.

Results: With access to the 2008 U.S. conventions, Newsweek gave Vestas an unmatched on-ground opportunity that increased Vestas' brand awareness and supported its advertising campaign through a turn-key program.