SILVER WINNER: Xbox 360: Reality or Fiction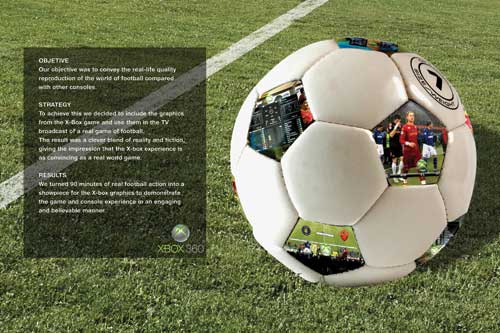 Client: Microsoft Xbox

Entrant Company: Mindshare Mexico

Entry Category: A Local Brand or Service in a Local Market with innovative media solutions worthy of international adaptation or of world class standards

Names to be credited with submission:
• Jose Antonio Nogales — Universal McCann
• Dario Sarcinella — Universal McCann
• Isabel San Segundo — Universal McCann
• Penelope Valdes — Microsoft
Time Period of Campaign: 2008

Case Study Summary:

Marketing Situation: The main campaign objective of Xbox is to maintain its market share in the face of competition from other video consoles, like the Playstation 3 and Nintendo's Wii. Xbox´s target market is principally young, heavy-users (13-15 year olds), while the other consoles appeal more to a broader market with a social, rather than expert, usage.

Key Insights: A key insight was that Xbox was perceived as having the best true-to-life graphics quality– a decisive purchasing factor in the mind set of heavy-users.

One of the biggest selling video games categories in Spain is football. Xbox 360 had recently increased the sense of reality in its Pro Evolution Soccer 2008, which features personalized matches and a vastly improved game experience. Football, therefore, became the ideal framework for the Xbox message.

Media Strategy: In Spain, football is the sport with the greatest fan base. Also, the profile of a TV football viewer and the Xbox target audience are very similar. The communication message needed to link football and TV together, while also demonstrating the quality of the Xbox graphics.

The solution involved using graphics from the Xbox Pro Evolution Soccer 2008 (PES 2008) during actual football matches broadcast on television. By adding superimposed images over the most exciting or most decisive plays, the real game suddenly seemed like an Xbox game. Xbox was able to "own" the content as the superimposed images enhanced the broadcast, and at the same time, use it as a means of conveying a message to a core target audience.

How Could this be a Template for Other Campaigns or for World Class Standards? Every brand has particular needs which demand unique methods of communication, depending on the market and its situation. The innovative use of the different media is only effective when the message can be adapted to those formats suitable for conveying the advertising message. The search for innovation requires finding the specific solution for each campaign and its particular demands.

Results: Aside from demonstrating the unbeatable graphics of the Xbox 360 console in an innovative and convincing manner during an enjoyable 90 minutes of football, the market share growth was dramatic. After the broadcast, Xbox 360´s market share immediately jumped, while it gained significant ground in annual comparison.