GOLD WINNER: "My South Africa"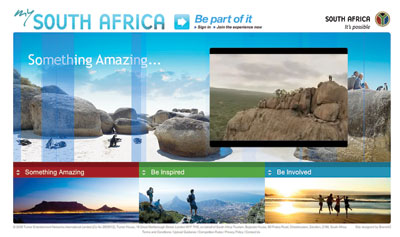 Client: South African Tourism

Entrant Company: CNN International

Entry Category: A Global Campaign or multinational campaign running in more than one region

Names to be credited with submission: Rani R. Raad- Senior Vice President Ad Sales, CNN

Time Period of Campaign: 2008

Case Study Summary:

Marketing Situation: South African Tourism has traditionally been able to push the limits of branding and showcasing the country, because of the link between tourism and strong economic growth. Our challenge was to create an engaging communications campaign that would offer our audience a vehicle for their own storytelling and fuel their desire to experience South Africa. The campaign needed to promote South Africa, in a believable, achievable persuasive package that would inspire people to travel to the country.

Key Insights: We needed to expose South Africa to potential visitors on a worldwide scale to build awareness and stimulate action. Any initiative needed to be sticky enough to travel by word-of-mouth association and involve consumers in a two-way dialogue through shared multimedia experiences that prompted an emotional response. The campaign elements needed to be flexible enough to leverage with other South African Tourism initiatives, as well as have enough staying power to evolve in anticipation of the 2010 World Cup tournament. The ultimate goal is for South Africa to achieve preferred destination brand status by 2014.

Media Strategy: The communications plan has two elements: 1.) a South African Tourism branded corporate campaign with ad spots and web banners, 2.) a bespoke website www.mysouthafrica.tv.

The 'My South Africa' campaign encourages CNN viewers to upload compelling photographs, videos and stories that encapsulate their experience of South Africa, via www.mysouthafrica.tv, for the chance to win a trip to South Africa.


To promote the campaign and to inspire people to take part, CNN International's in-house creative production unit, Turner Commercial Productions, produced a series of 'call-to-action' television spots. The first featured South Africa's Ambassador and acclaimed music artist Yvonne Chaka Chaka, to drive audiences to the website. The campaign has also linked to Facebook via a user-selected image being placed on the user's homepage.

In addition, www.mysouthafrica.tv houses a picture gallery where visitors can rate each other's entries and sign up for a monthly newsletter and quarterly virtual magazine.


How Could this be a Template for Other Campaigns or for World Class Standards? This campaign is great template for other markets because it allows the audience to "own" a large part of the messaging. It can be incredibly rewarding to have your own consumers endorsing your brand. The key is to keep these messages fresh and establish a strategic reason for advertising.

Results: The success of the campaign is being measured on its ability to stimulate dialogue and prompt action. The site statistics speak to the success of the campaign. The average user spends a minimum of 25 minutes on the site and views more than 15 site pages. More than 600 users have registered to receive communication from the site and from those users, more than 800 uploads have been made to the website.