SILVER WINNER: Visa—"Celebrate Win, Celebrate Visa"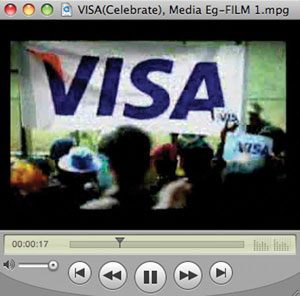 Client: Visa India

Entrant Company: Media Direction, R K Swamy Media Group

Entry Category: A Local Brand or Service in a Local Market with innovative media solutions worthy of international adaptation or of world class standards

Names to be credited with submission:
Team Media Direction

Time Period of Campaign: 2008

Case Study Summary:

Marketing Situation: Cricket in India is not a sport; it's a religion. It's the most watched programming on television and appeals to all audience segments.

VISA has a long affiliation with sports, but needed to create appropriate media touch points to establish VISA's association with cricket—with minimal additional spending. Its goal was also to stand out in the clutter of many brands cheering for the Indian Team.

Key Insights: As part of their cricket affiliation, VISA had introduced the "Cricket Album" featuring the music played during winning matches by popular band, Shankar, Eshan & Loy with title song, "Mind, Body, Heart, and Soul." This track had the potential of becoming a "Cricket Anthem." TV networks, particularly news and sport channels reporting on matches, could use the music while intellectual property rights belonged to VISA – by positioning the catchy chant as a cricket anthem. It was also possible to embed the anthem into content, adding sports exuberance and color without overt message intrusion. The investment to make cricket anthem mainstream was negligible.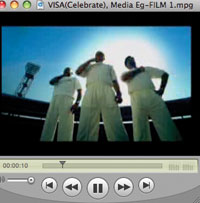 Media Strategy: The key campaign tactic was to establish the association of winning a cricket match to VISA, in a very subtle manner. As a result, news channels became platforms to communicate the winning spirit of VISA.

During televised matches, there were repeated scenes of people humming or singing the anthem or of people holding up boards with a nod to the anthem, such as "Play with your heart and mind and body and soul and go get the cup." "Go get it" is the VISA India tag line, so the anthem's connection with VISA was becoming well-established.

How Could this be a Template for Other Campaigns or for World Class Standards?
Not only did the channel partnership ensure commercial recall, but it helped VISA communicate core brand values with an exhilarating sports association. This type of program can be replicated in other countries—should similar conditions exist.

This insight became a source for a number of TV and radio messages. An RJ of a Radio channel interacted with the "Residents Welfare Associations" of colonies/row housings to provide solutions to dampness on the walls of their homes. The end consumer was provided with good and useful information, which resulted in a multiplier effect with further education from multiple touch points.
Results: A three-city research project showed that 87% of respondents recognized VISA's cricket association. A majority of respondents could actually recite the anthem correctly word- by-word.