BRONZE WINNER: Casio G-Shock—Tough Test Team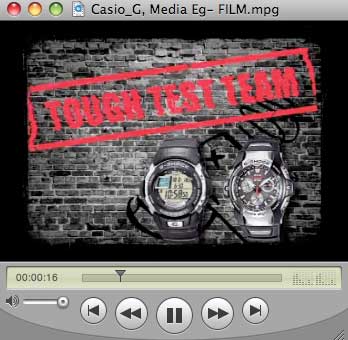 Client: Casio G-Shock

Entrant Company: OMD Germany
Entry Category: A Local Brand or Service in a Local Market with innovative media solutions worthy of international adaptation or of world class standards
Names to be credited with submission:
• Jan Dreyer — Deputy Managing Director, OMD Germany
• Matthias Hahn — Managing Director, OMD Germany
• Harold Schroeder — General Division Manager Marketing, Casio Europe GmbH
Time Period of Campaign: 2008

Case Study Summary:

Marketing Situation: CASIO G-SHOCK, the toughest watch and "must have" youth brand of the 80s and 90s, faced a fading perception in terms of relevance and attitude. The challenge was to revitalize the brand and reinterpret the CASIO G-SHOCK so that it would have access to the minds (and wallets) of the today's young generation.
Key Insights: Active, user-generated, authentic consumer engagement was critical, especially when exploring and experiencing the product benefits. It was essential to make the "toughness" of the CASIO G-SHOCK a vivid and real experience in order to get the customer genuinely interested in the product. By demonstrating the G-SHOCK's benefits with the consumer's help and creativity it was possible to create high authenticity for the product.

Media Strategy: The "Tough Test Team" website was created to allow for an "edgy" staging (part-entertainment, part-science) of the brand's unique proposition and to integrate the audience into the process. Consumers could actually invent "tough product tests" under extreme conditions to push G-SHOCKs to their limit. The best ideas were executed by a dedicated Tough Test Team live and direct via a daily I-TV show.

Real tests examples included freezing watches in liquid oxygen or pounding them with sledge hammers. An individualized cross media communication platform was created for the CASIO G-SHOCK Tough Tests – featuring those channels and partners with high relevance for the target.

How Could this be a Template for Other Campaigns or for World Class Standards? Young brands, which benefit from a real and actual experience with a product, could find a custom-made platform with a strong consumer involvement useful as well as profitable. In the CASIO G-SHOCK case, the consumer had to look into the product closely, which also made him more committed to the brand and product.

Results: The G-SHOCK experience a double-digit sales boost, while website traffic increased by 500%. In addition, the campaign demonstrated outstanding PR effects and strong viral buzz, including videos of tests spreading across community platforms, such as "tough test team" at YouTube.