BRONZE WINNER: dunhill Fragrances Mini Cooper Giveaway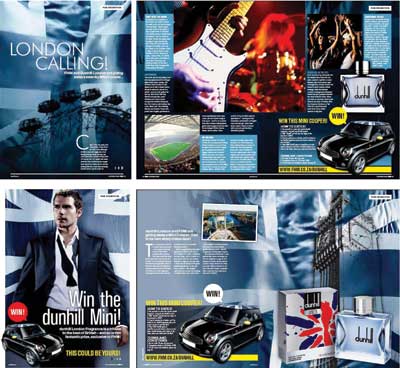 Client: Procter & Gamble, Prestige Beauty

Entrant Company: Starcom South Africa

Entry Category: A Local Brand or Service in a Local Market with innovative media solutions worthy of international adaptation or of world class standards
Names to be credited with submission:
Ilsa Grabe — Media Strategist, Starcom Worldwide
Time Period of Campaign: Spring 2008 through the Christmas gift-buying period

Case Study Summary:

Marketing Situation: The dunhill Fragrance brand in South Africa had lost its appeal to younger, more 'hip' consumers. dunhill Fragrances and Mini-Cooper developed an exciting partnership for a global campaign to revitalize the brand that enabled each participating country to give away a dunhill-branded Mini Cooper Car. The campaign had three key objectives: expand the user base by encouraging a younger set of consumers to buy into the brand, drive a 10% increase in sales, and leverage the "British Heritage" brand equity pillar of the dunhill fragrances.
Key Insights:The key insights that drove the dunhill Fragrance campaign included:
• Young South African men define their style and personalities through brand association of tangible commodities like premium fragrances, cars and clothing.

• The dunhill fragrance brand has high aspirational appeal to young Men. An opportunity existed to exploit this desire for acquiring fashionable brands to enhance their image. Their need to be in the 'know' and travel also gave the brand an opportunity to strengthen its "British Heritage" equity through education and association with Mini-Cooper.

• This target audience does not actively seek out advertising; interaction must be encouraged and create an affiliation with the brand. Online networking and mobile phones are important to keep up-to-date with the latest trends.

Media Strategy: The innovative appeal of the dunhill fragrance campaign was through the multi-dimensional use of platforms with a base in traditional print media and the association of three sexy brands—dunhill, Mini-Cooper and FHM.

dunhill partnered with FHM Magazine (the largest circulating male magazine in SA), and utilized FHM's platforms to capitalize on their loyal readers via multi touch-points (Print, Online, Mobile and Experiential events). FHM magazine equips men with social ammunition, what to wear, what car to drive and how to keep up with the latest trends.

Interest was created through advertorials about "British Heritage" as social ammunition, and a call to enter the competition to win a branded dunhill Mini-Cooper. The print also drove readers online where they could interact with the brand by playing a game with a chance to win instant gifts.

The next step was to encourage contest entry through electronic newsletters, online advertising and center court displays in malls. The dunhill Mini drove around to key nightlife hot spots where promoters sampled the fragrance and encouraged entry. All elements of the campaign were sophisticated and sexy, while a glamorous event was held to announce the winner of the car. The event was covered by local gossip/celebrity websites and social networking sites which generated large amounts of PR.
How Could this be a Template for Other Campaigns or for World Class Standards? This campaign demonstrates how a print media partner is not just as a magazine, but a multi-dimensional brand with holistic contact points. It can make a campaign more engaging and captivating for the desired target consumer by reaching them across different platforms.

Within the South African fine fragrance market this campaign was an ideal example of a best in class. The level of interactivity versus traditional media used as well as the integrated holistic model generated good response and met objectives. South Africa's media climate is cluttered and media fragmentation has led to high waste as mass media becomes less appealing.

Results: The campaign's success was measured against set objectives. The goal was to achieve a 10% increase in sales yet a remarkable 30% increase was accomplished. The FHM Banner Advertising for dunhill generated an average click through rate 150% greater than the industry average. Roughly 46,000 total entries were received.