BRONZE WINNER: The Ideal Man—GQ France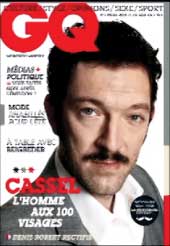 Client: GQ France

Entrant Company: Condé Nast Publications, GQ France
Ad Agency: DDB Paris

Entry Category: A Local Brand or Service in a Local Market with innovative media solutions worthy of international adaptation or of world class standards
Names to be credited with submission:
• Anne Boulay- Editor in Chief, GQ Magazine
• Louis Orlianges, Publisher, GQ Magazine
• Virginie Mary- Marketing Director, Conde Nast Publications
• Xavier Romatet- CEO, Conde Nast Publications
• Alexandre Herve- Creative Director, DDB
Time Period of Campaign: February 2008

Case Study Summary:

Marketing Situation: A local edition of Condé Nast's GQ, or Gentlemen's Quarterly, was launched in France where it needed to distinguish itself from other men's magazines and quickly gain recognition. In addition, the magazine's name was not easy to pronounce in French.

The goal of the campaign was also to underscore the how GQ was the only multi-thematic men's magazine in France. It informed readers about culture, style, automobiles, sex, sports, etc—all with great ease, good humor and high standards.
Key Insights: The GQ message had to be easily accessible to all 25-40 year old active, urban men, and the name of the magazine had to be pronounced so that it could be understood easily and clearly remembered.

Also, speaking to men in a different tone would also help to distinguish the magazine from others in its field. The campaign used humor to convey its message and a spoof of "the ideal man."

Media Strategy: This represented the first time in France that an advertising film was created with a story line designed to promote a magazine. The film evokes all the qualities that "The Ideal Man" should possess today. He ought to be funny, sexy and athletic; hold a good job; be sympathetic to women's issues… and possess all other impossibly perfect traits. However, as the slogan suggests, "The ideal man doesn't exist, but his perhaps his magazine does…."
How Could this be a Template for Other Campaigns or for World Class Standards? The concept behind the message is universally comprehensible. GQ rejects the idea of the ideal man and all the impossible stands required to become one, but suggested with a hint of humor that the ideal magazine now exists and it can cater to man's various interests.

Results:The campaign received wide media coverage, particularly for a new, unknown magazine. It was even mentioned during the 8 o'clock news on TF1 and received more than 70 press mentions in the launch month.

Most importantly, the campaign helped the magazine exceed its own ideal target audience figures in terms of the numbers of copies sold per month. In addition, when India launched its edition of GQ later in September 2008, it decided to adapt the same advertising film. This certainly shows the universality of the GQ spirit.