BRONZE WINNER: Trend Micro—Sweden Campaign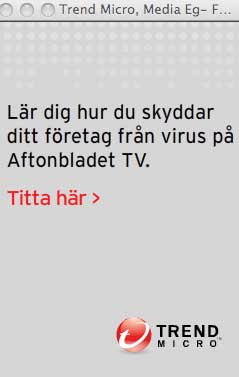 Client: Trend Micro

Entrant Company: Banner Corporation, London
Ad Agency: DDB Paris

Entry Category: A Local Brand or Service in a Local Market with innovative media solutions worthy of international adaptation or of world class standards
Names to be credited with submission:
• Hilton Barbour — Banner Corp
• Charlotte Simpson — B1 Media
• Hanne Tuonisto-Inch — B1 Media
Time Period of Campaign: 2008

Case Study Summary:

Marketing Situation: Trend Micro is a manufacturer of anti-virus and internet content security software products with solutions for businesses and home PC use. Although the category is important, it is not front-of-mind unless one is purchasing/upgrading a system or attacked by a virus.

Trend wanted to increase awareness in Europe by demonstrating its security leadership. Ideally, it wanted to test in one country to build a meaningful presence, and then use that experience to create successful blueprints for other countries. The target audiences were multi-tiered: "connected consumers" who used PCs at home, small business decision-makers and enterprise IT managers.

Sweden was chosen as the test market. The campaign also came at a time when its U.S. dollars budgets were their most unfavorable in four years, given exchange rates.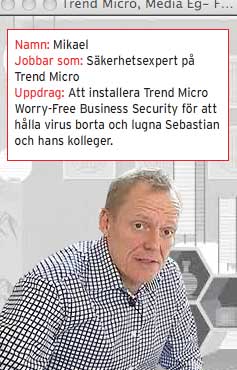 Key Insights: Several key insights emerged:
• Broadband may have changed the kind of activities with which consumers engage—video, gaming, downloads, but it has also increased the susceptibility of web threats.
• Online time has overtaken print media time
• The Trend target audience represents consumers with high consumption of all media.

Media Strategy: The media strategy evolved to have three key elements:
1. Identify audience behaviors where the risk of exposure to a web threat is greatest and target media opportunities in those environments.
2. Influence the influencers, like bloggers, who can be additional facilitators
3. With limited brand awareness, create bespoke properties that would have a high level of engagement, but be seen as uniquely Swedish. (The goal of the campaign was to create relevant local connections, not adapt a U.S. campaign.)

These goals were accomplished through:

Partnership programs—one included teaming up with publisher, Aftonbladet, to create bespoke "VirusDoktor" content for their site. This consisted of ten video segments with a security expert who visited homes/business and solved problems. Ordinary Swedes could submit problems in hopes of winning a visit.

Affinity Targeting—using research to identify the key interests of the target group and the selecting top media properties in these interest areas.

Threat Targeting—tailored messages were created to reach people when security risks were heightened, such as when downloading, shopping or social networking.

Coverage—cost-efficient network activity gave a sense of ubiquity and a perception that Trend is a major player in the marked.
How Could this be a Template for Other Campaigns or for World Class Standards?As a global company, Trend could have adapted existing creative in run in a pilot market, but instead looked for ways to connect with the Swedish consumer using media sources that were trusted and familiar.

Also creating unique, value-added content like the "Virus Doktor" program allowed Trend to create a real personality in a market where the company had no awareness. Its' expertise was shown in a fresh and credible fashion—demonstrating that Trend was a very human organization to ordinary Swedes.

Results: Engagement with the brand has certainly been a success, based on all metrics from clicks to consumer participation. Brand awareness has increased to the point that people are also willing to buy the product, according to survey results. Trend Micro is now using these key Swedish campaign ingredients to pilot additional EMEA campaigns.