BRONZE: CISCO
Client: CISCO
Submitted By: Cisco UK
Campaign Title: Cisco Human Network Effect Click-to-Play Campaign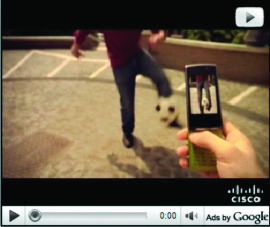 Research shows that business-to-business buyers (Cisco's primary audience) are increasingly responsive to the use of video as a marketing tool. As the leading provider of networking technology for the Internet, Cisco itself enables the delivery of online video. In addition, video products such as Cisco TelePresence high definition video conferencing, WebEx online conferencing and Flip HD cameras feature strongly in Cisco's suite of products – so this aligned well with the idea of using digital and video as a way to reach and engage with the target audience in some European countries with smaller marketing budgets.
The Cisco campaign was one of the first in Europe to use click-to-play. Testing during the pilot campaign included:
» Different versions of creative (eg, branded v. non-branded start-frame)
» Different cost models (ie, CPM v CPC)
» Site placements v. contextual targeting v combination of contextual and site placements.
This campaign performed extremely well in the three key areas of awareness, engagement and cost-efficiency. By testing various elements of the campaign we captured learnings which can be applied in different markets and for different campaign objectives.