GOLD: CORN POPS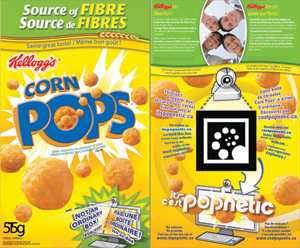 Client: Kellogg Canada, Inc.
Submitted by:Starcom Canada
Campaign Title: The It's Popnetic Digital Experience
The Challenge:
After 6 years of inactivity, the goal was to re-introduce the Corn Pops cereal brand to the Canadian market by shifting the focus to Tweens with a new communications idea.
Tweens are a notoriously difficult target to reach in Canada as media vehicles are segmented quite distinctly between Kids and Teens. To compound the challenge, Kellogg's Canada has strict guidelines against advertising in schools.

Digital Strategy:
Tweens seek social levers to help them fit-in with their peers and be the envy of the group when discovering something first. For Tweens, the top social media is online instant messaging (IM) via text or webcam, providing over 80% of the target with countless hours of gossip and fun.
As a result, Starcom Canada took Tweens on a digital journal, landing on the brand site. In a series of media firsts, the webcam was leveraged as a means to spark Tween conversation more directly and in real time. Advanced motion-control technology was used to create a new IM experience by partnering with MSN Messenger for a global first.
Tweens were prompted to play a real time game with one another within an actual IM chat. With their webcams activated, they could see each other—but also see a kitchen table with empty bowls projected between them. When the game starts, Tweens must use their mouse to fling Corn Pops cereal pieces at their counterpart. The goal is move your head to bounce the Corn Pops into your bowl. The program detects actual motion of users in real time and projects the deflection of Corn Pops off the body. This then lead to other forms of Popnetic Corn Pops engagement.
The campaign leveraged the newest in digital media to create a new experience for Tweens that doubled as entertainment and social currency—(It was "cool"). Also every element of the digital experience was intrinsically tied to brand attributes and to the act of eating cereal.
Results:
The brand-building goal was to launch a brand site (www.itspopnetic.ca) that would become a consistent and engaging entertainment destination for Tweens that would be refreshed and leveraged over the years. Not only has the Corn Pops site attracted more Canadian Tweens that other sites targeted to the group, but the entire digital experience has resulted in both an increase in volume and net sales for the brand.