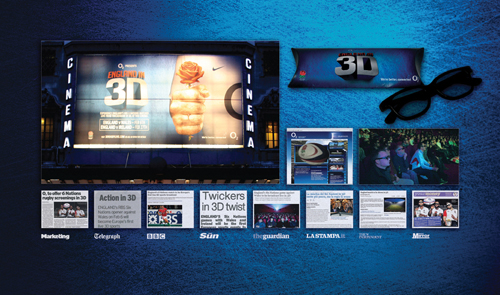 GOLD — O2 "3D Rugby"
Entrant Company: Archibald Ingall Stretton

Category: A Local Brand or Service in a Local Market with innovative media solutions worthy of international adaptation or of world class standards.
Credits:
Archibald Ingall Stretton: Geoff Gower - Creative Director
Matt Morley-Brown - Creative Director
Kristian Foy - Copywriter
Mark Hanson - Art Director
Jon Biggs - Head of Design
James Bartram - Account Director
Sam Slee - Account Manager
Jamie Warren - Executive Technical Director
Andre Head - FE developer
Perry Cooper - Senior Designer
Andy Millns - Inition Producer
Rhys Edwards - Inition Director
Catherine Airey - Inition Production Manager
Wurmsers - Wurmsers
The Situation: O2 has great success converting customers into fans with their unique and exclusive music Priority experiences. A major sponsor of England Rugby, O2 needed to do the same for their rugby consumers. We knew if we could take the live experience of England's matches to customers, it would make them fans of O2.
The key objective of O2 3D Rugby was to bring the O2 Priority philosophy of delivering unique experiences via the O2 blueroom website that make customers feel that they're O2's priority to life. With a previously strong music focus – to the key sports audience of O2: its rugby base.
And deliver a Priority experience of real value to these customers that would continue turning O2 customers into fans.
We also wanted to be as different and interesting as possible to maximize PR – especially in online / technology based media, to promote O2 as a progressive brand in these areas.

Insight and Strategic Approach: The problem was that unlike their music offering, O2 didn't have an endless supply of gigs and events they could offer to its rugby base. England play a maximum of six competitive home games a year, and they often sell out months in advance – meaning the opportunity to share this experience is extremely limited.
Through further research we also found that – compared to the traditional, 'live' Twickenham stadium audience – the O2 rugby base was younger, had less spare time and less disposable income. It was also spread fairly equally across the country.
Live 3D broadcasts of the rugby at cinemas throughout the country gave us the perfect solution for delivering this Priority experience to O2's rugby- loving customers.
Media Tactics: Interested O2 customers counted down to the event through emails and our Twitter feed campaign, building drama while also dispensing England content to the audience. We dressed each cinema as a mini- stadium, complete with free beer, St George's flags and 3D glasses. We knew we'd got it right when England fans in cinemas across the UK stood up to sing the national anthem.
A pre match 3D film whet the appetite and a real-time Twitter feed with comments from O2 customers was an integral part of the match commentary. The matches weren't just broadcasts – they were shared experiences for O2 customers.
On YouTube, a dedicated 3D Rugby channel showed reactions – from players and fans – to our 3D demo games. A special website highlighted the technology and allowed O2's Priority registered customers to buy advance tickets. Each game was a 10,000 ticket sell-out – in just 48 hours!
How this Campaign may be a Template for World Class Standards
When the fans couldn't make it to the game, we brought the game to them in a never-been-done before 3D format, so that they could revel in their team's up and down with the only people who truly understand their passion: more fans!!!
By moving beyond large-scale music events, we expanded O2's product offering to attract and appeal to a larger fan base. At the same time, we provided a meaningful experience to customers in order to turn them into fans. Because after all, fans are what make brands.
The 3D events were preempted by a real-time Twitter campaign that served two purposes: first to inform consumers about the upcoming 3D matches, and then to connect fans live during the events.
By combining passions, technology and unique group-experience events, we drove over 250,000 customers to the O2 blueroom and had over 20,000 attendances at the events.
Results:
PR coverage created more than £2.4m of equivalent media spend across the world.
And the campaign paid back immediately with £250,000 worth of tickets sold to O2 customers.
Best of all, we saw 20,000 O2 customers singing, drinking and sharing an amazing experience. The perfect expression of O2's brand's positioning line – "We're better, connected."