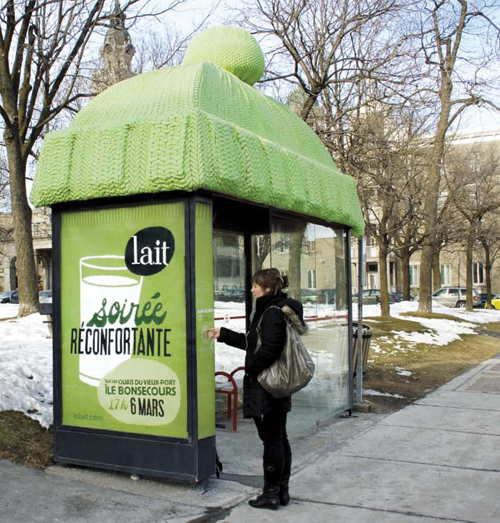 GOLD — Québec Milk Producers
"Milk, A Natural Source of Comfort"
Entrant Company: Touché PHD

Category: A Local Brand or Service in a Local Market with innovative media solutions worthy of international adaptation or of world class standards.
Credits:
Nicole Dubé, Marketing Director- Québec Milk Producers
Charles-Etienne Morier, Digital Media Supervisor- Touché PHD
Lyne Clerment- Nolin BBDO
The Situation: In crowded beverage industry, milk had quite an exhaustive challenge to face in order to remain a strong player and protect its market share. The goal was to increase consumption again adults 18-34 years old.
When the campaign launched, Québec consumers were indeed in need of comfort due to the harsh winter, the economic recession and the H1N1 epidemic. Clearly, winter 2010 was not intended for the faint of heart. So, in order to increase milk consumption, we played up one attribute of milk: the comfort the product brings to consumers. Milk is associated with good, old-time memories. It soothes its loyal drinkers.

Insight and Strategic Approach: The campaign was centered on the simple yet evocative signature: "milk, a natural source of comfort." The creative platform was developed around a soothing icon: wool. Wool was omnipresent in the TV commercial that launched the campaign. Inspired by the brand's signature, the media strategy was to create "comfort zones" to soothe in times of need. Capitalizing on wool, many executions got knitted to convey a comforting feeling.
Media Tactics: Media Platforms were designed to surprise customers with colors, effects and dimensions not used during these darkest months of the year. Out-of-home was an important element in the media mix. It supported and encouraged consumers to drink milk as a comforting beverage during the cold and hard days.
Transit shelters were redesigned with gigantic tuques (knitted caps) at key locations. Earphones were installed to the great pleasure of users who could listen to comforting stories in a warm environment. Even better, heaters were installed in the transit shelters—much appreciated by Quebecers waiting for a bus in temperatures as low as -30c.
Giant street columns were also topped with colorful wool tuques.
In metro stations, subway trains were covered by simili wool material. Backlits were used to hang hand-made wool knitting. Some included earphones where users could listen to comforting stories.
A free iPhone app was created to challenge users to the longest wool scarf.
On radio, an entire commercial break was negotiated to broadcast comforting stories.
Podcasts were created with media partners to provide 4-8 minutes of comforting stories told by famous Quebec storytellers.
Finally, the campaign came to a big end with comforting live events featuring artists and entertainers. Each promoted through OOH and social media, attracting thousands of consumers.
How this Campaign may be a Template for World Class Standards
Today, media creativity is often desynchronized from the brand values. As a result, creativity can be distributing to consumers and create backlash for the brand. This campaign is the opposite and was inspired by strategy and consumer insight. The campaign was also customized to what was happening in the marketplace at the time of the launch, yet remained true to brand values.
To create "soothing zones" is a strong strategy that led to creative and impactful media executions. The final result was a template for world class standards both for the visual enhancement it brought to the city in times of need and for the connections it created with consumers.
Results:
In a very short time, the consumption of milked increased by 1% and is still growing. Another sign of success was the instant public reaction. Consumers strongly expressed their appreciation of the OOH enhancements through Facebook and Twitter.