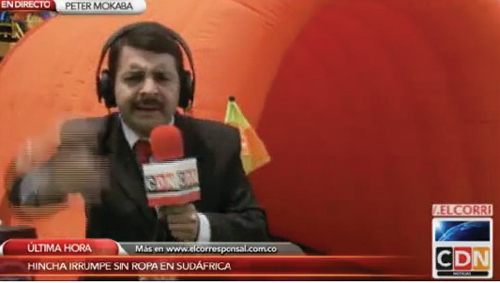 SILVER — Levi Strauss (Hong Kong) Ltd.- Square Cut Jeans "Soundwash"
Entrant Company: OMD Hong Kong

Category:
A local execution of a multinational campaign or a local campaign worthy of worldwide best practices
The Situation: Levi's faces ongoing competition in the Hong Kong market where the brand's share of mind is consistently challenged-- not only from the jeans sector, but also from heavyweight spenders in the sports apparel category. Yet research shows that Levi's remains one of the strongest fashion brands for Hong Kong teenagers, due to its innovative and unconventional approaches in communicating with teens.
Insight and Strategic Approach: The communications goal was to promote the launch of Levi's revamped "Square Cut" collection while re-establishing Levi's as a leader in the denim market in an authentic and original way.
The challenge was to introduce the new Square Cut series - a youthful, musically inspired collection-- in an already oversaturated market among consumers who are only excited by something new and different. Teens always look for ways to express themselves. The styles they wear and the music they choose are valued expressions of who they are.
The "Soundwash" concept was created - A concept that blends music with the traditional experience of classic American Laundromats to bind together our target audience's sense of fun and love of music, while also clearly communicating our new product launch.

Media Tactics: The "Soundwash" idea combines originality and music as an interactive and engaging experience. It's centered in ambient Laundromat, chosen with for its associations with waiting, hanging around and more often than not, finding ways to kill time while your clothes wash. The concept spoke to Levi's classic American heritage while simultaneously creating a place for people to engage with the Levi's brand in a fun, fresh way. By also introducing music into this setting, a place was created where people actually "Soundwash" their individualism on what they wear.
How this Campaign may be a Template for World Class Standards
The campaign kick-started by a viral "Soundwash" video endorsed with popular rock band "MR" to deliver a strong statement about this musically blended styling concept.
The Laundromat existed physically at the point-of-sale location where Innovative Sound Washing Machines enabled our consumers to select their favorite music mix to "Soundwash" the new Levi's Square Cut jeans.
"Soundwashing powders" (delicious pop rock candies!) with barcode to activate the machines were distributed around the Laundromat; limited-edition "Soundwash" packaging was tactically sold in the store.
The Soundwash Laundromat also existed virtually—online, through an iPhone app and an interactive magazine cover. Consumers were invited to participate in a Soundwash competition to win a pair of new Levi's Square Cut jeans.
Results:
Total Special Edition Package sell through rate: 125%
Over 10,000 people visited the Laundromat in just 4 days
Levi's store foot traffic up 85%
Over HK$2.5 million generated in PR coverage
An increase of 100% in page visits for website
Generated 60,000 online conversations
Rated #2 iPhone Music App