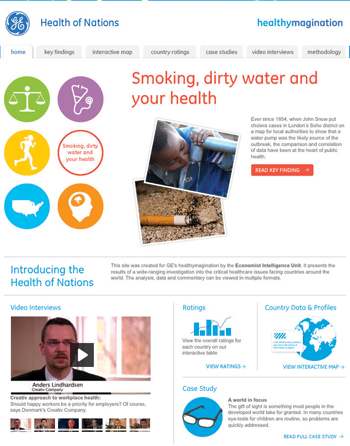 SILVER — GE "The Health of Nations"
Entrant Company: The Economist Group

Category: A Global campaign running in multiple regions
Credits:
US Team:
Suzanne Hopkins, Michael Geach, Chris Shedd, Nigel Holloway, Katherine Abreu, Marina Guvenc, Eileen Hume, Romina DeNicola, Kati Nawrocki, Amy Dholakia Jorand, Justin Hendrix, Richard Stein UK Team: Katharine Dunlap, Darren Smith, Jamie Credland, James Watson, Denis McCauley, Alan Dunachie, Selina Horshi, Iain Scott, Sarah Guttridge, Harry Whitbread, Gareth Lofthouse, Guy Dunn, Phil Cuttsz
The Situation: GE wanted to position their brand as a leader and innovator in the Health and Environment space in a digitally engaging way.
Insight and Strategic Approach: GE wanted to position their brand as a leader and innovator in the Health and Environment space in a digitally engaging way. The Health of Nations Program, which highlights the critical healthcare issues facing countries around the world, was created for GE's healthymagination by the Economist Intelligence Unit.
Through clever design and data visualization, the website (ge.com/healthofnations) at the heart of the program engages and educates the user while providing the desired brand exposure for GE. The program elements – data visualization, interactive map, country ratings, case studies and video podcasts − are cohesive, impactful and deliver on user expectations.
The Economist Intelligence Unit's editorial team built the Index, undertook the research and analysis, conducted the interviews, and wrote the key findings, case studies and profiles. (In fact, the findings and views expressed in The Health of Nations do not necessarily reflect the views of GE.)
The index The Health of Nations Index was built by the Economist Intelligence Unit in order to assess countries on their ability to meet the health demands of their populations. Its coverage extends to 50 countries, and the assessments are based on each nation's performance in 21 core indicators. Summarizing the complex nature of healthcare systems is extremely difficult in a single index. For one thing, the health challenges facing some countries are very different from those faced by others. These may derive from differing levels of economic development, climatic conditions, culture or other factors. For this reason, the Index is divided into three separate components: Healthcare Inputs, Outcomes and Risk. The Healthcare Inputs Index is comprized of seven indicators which measure the population's access to hospitals, doctors and other health personnel as well as key types of preventive medicine. The Healthcare Outcomes Index gauges the health status of populations by considering eight indicators covering mortality rates, the prevalence of diseases and nutritional health. The Healthcare Risk Index is based on the recognition that future demands on healthcare systems are influenced also by exogenous factors; this component thus considers such factors as smoking, access to clean water and air, and obesity levels. The Key Findings draw out specific trends from the data series and grapple with some of the big issues facing healthcare systems worldwide. They synthesize the data from the Health of Nations index with other research and explore the ramifications of the results.
The indicators
All the indicators used in the Index are quantitative in nature. They were selected by the Economist Intelligence Unit based on their fit with several criteria. To merit inclusion, each indicator had to be:
directly relevant to healthcare inputs, outcomes or risk
internationally comparable across all countries
accessible
recent
methodologically robust
Therefore, reputable and recent standardised data sets are used from international sources such as the World Health Organisation, the World Bank, the United Nations and the OECD. Healthcare Inputs Index
Nurses (per 10,000)
Pharmaceutical personnel (per 10,000)
Physicians (per 10,000)
Hospital beds (per 1,000)
Measles vaccine (% of children)
DPT vaccine (% of children) Healthcare Outcomes Index
Adult mortality rate (per 100,000, age 15-60)
Infant mortality rate (per 100,000, age 0-1)
Cancer mortality rate (per 100,000, all ages)
Cardiovascular disease mortality rate (per 100,000, all ages)
Incidence of tuberculosis (per 100,000, all ages)
Life expectancy at age 60 (years)
Prevalence of HIV among adults (%, age 15-49)

Healthcare Risk Index
Newborns with low birth weight (%)
Smoking Prevalence, Females (% of Adults)
Smoking Prevalence, Males (% of Adults)
Access to improved water (% rural population)
Access to improved water (% urban population)
Alcohol consumption (litres per person per annum)
Air pollution (urban PM10 exposure, mg/m3)
Population below poverty line (%, <US$1 per day)
Case studies and video interviews
All case studies were based on research conducted by the Economist Intelligence Unit. Interviews for these, as well as all video interviews, were conducted between March and May 2010 at a variety of locations worldwide.
Country profiles
Unless otherwise indicated, the country profiles are excerpted from Economist Intelligence Unit healthcare reports which appear on its Healthcare Briefings & Forecasts website. The profiles offer country-specific outlooks on healthcare spending and policy and issues surrounding disease, using the most recent available data.
How this Campaign may be a Template for World Class Standards
The Health of Nations sets a new standard for tailoring solutions that leverage the brand strengths of marketer and media partner, integrates the marketer with relevant, tailored content and ultimately provides new value to an appropriate audience. All involved pushed traditional boundaries and comfort levels from idea concept, specific executions, distribution of content, media planning and IT build. It was a successful program for all parties.

Results:
GE monitored the unique visitors to the site and The Economist Group monitored the impressions/traffic to the website:
a) During the first three weeks of the campaign, over 4,700 users visited the site, viewing over 34,000 pages
b) The campaign reached 2.9 million C-Suite, senior management and health professionals worldwide
c) The campaign featured on several blogs and twitter feeds around the world, generating PR
d) On average, users spent 4:00 minutes on the site