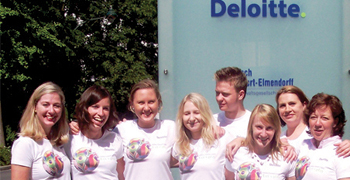 SILVER —Deloitte Touche Tohmatsu Limited "Fantasy Football"
Entrant Company: Deloitte Touche Tohmatsu Limited

Category:
A Global campaign running in several regions
Credits:
Mitzi Avanzado
Luis Gallardo
Alexander Hamilton
The Situation: As a brand, there continues to be a shift in the perception of Deloitte as just a Big Four accounting and tax firm to that of a leading professional services provider with a diversified offering. One of the ways Deloitte aims to achieve this level of brand differentiation is by providing its practitioners with unique experiences to connect with colleagues and clients in a fun, desirable way to build brand loyalty.
Deloitte Fantasy Football was a simple, online competition that was free to play and open to everyone. The competition leveraged the energy and momentum sustained by the 2010 FIFA World Cup™ games while generating publicity for the Deloitte brand. Multiple brand stakeholders across the world participated in a global, virtual conversation that allowed them to promote their teams, celebrate their cultural diversity, and increase the sense of belonging for employees and clients across Deloitte's global network. In the process, audiences were also drawn to key advertising and marketplace messaging that aligned with the organization's global brand positioning framework.
To play the online Fantasy Football game, participants were asked to pick a "Fantasy team" comprising players selected from the real World Cup squads. Participants do not "play'' the game; they act as virtual managers who select players from various national teams who they think will perform the best throughout the World Cup. Each fantasy team gains or loses points according to the performance of real players in their respective World Cup games. The different strategies that could be used to win the game was a fun talking point for Deloitte practitioners and their clients. And since participants can create private leagues to play against colleagues and friends for kudos and prizes, central to the campaign was the Idea of peer to peer recommendations and social media to engage personal networks throughout the competition.
Insight and Strategic Approach: The foundation for Deloitte Fantasy Football's media strategy was based on an integrated marketing communications approach that combined the viral, grassroots component of emerging media with the tangible credibility of print and other offline channels.
Deloitte's member firm network structure also meant that the campaign was relevant and aligned to local market and cultural needs. Deloitte needed to obtain the buy-in of as many member firms as possible to promote the campaign in their respective locations. By encouraging member firms to promote their teams/service lines to colleagues and clients, Deloitte was able to increase the sense of family across its global network and create opportunities to deepen client relationships.
The goal was not only to get tens of thousands of people playing the game, but also to leverage multiple media channels where two-way dialogue could illicit an emotive response-a sense of pride and understanding for the spirit of the games, South Africa as the country host, and Deloitte.

Media Tactics: Innovation was vital for the execution of several integrated media tactics for the Deloitte Fantasy Football campaign. As the only professional services provider that took advantage of the fantasy football concept as an innovative platform for engagement, Deloitte "broke the mold" with the largest engagement campaign ever undertaken within the organization and in the professional services industry.
Internally, centralized communications for the campaign needed to align member firms globally to better prepare them for local campaign implementation. A comprehensive, fully customizable marketing and communications toolkit was developed to help drive innovation and successful execution of the program. It included everything from voice mail scripts and internal magazine print ads, to client invitation templates, Green Dot postcards, flash panels and wall charts. In less than one month, more than 90 countries were promoting the largest brand engagement campaign in their regions.
Deloitte Fantasy Football signs, posters, and banners were displayed all over the world-from a large billboard the size of an 8 story building in Malaysia to hanging banners that lined the streets in South Africa-the spirit of Deloitte and the World Cup were captured in print. Some countries even made vegetable and fruit displays in the shape of football cleats and soccer balls made out of chocolate.
The Deloitte Fantasy Football social media strategy also demonstrated innovation in the areas of promoting cross-cultural understanding within the online community and drawing parallels to Deloitte's deep customer insight. These conversations took place in multiple brand touch points across several social networking channels: Facebook, Twitter, YouTube, and several blogs. In fact, over 40 practitioners attending live game matches in South Africa offered to act as "Green Dot reporters" by blogging about their experience. This proved to be an innovative way to mix a bit of 'reality' into the fantasy football competition.
To raise the profile of the campaign even further, Deloitte also sent out a social media press release and used several search engine optimization (SEQ) techniques to boost awareness and interest of the campaign online. Prizes awarded globally included a replica of the World Cup trophy for the winner of the competition; an iPadTM lor the Deloitte participant that created the largest private league; and several other local prizes such as donations to charity for Deloitte UK and a free trip to Bali for Deloitte Malaysia.
Worldwide best practices
A critical component to the success of any professional services organization is the talent of its people. Other organizations and markets can use this campaign as a template for building a premier brand and developing a culture of business development success. The Deloitte Fantasy Football campaign represents a holistic, 360-degree approach to branding across hundreds of brand touch points. Through excellence and innovation within the marketing and communications discipline, the campaign is a worldwide best practice on brand engagement. Unlike more traditional campaigns that focus solely on mass media, Deloitte Fantasy Football proves the 'halo effect' of branding through social media targeting.
The main lesson from Deloitte Fantasy Football is that it allows the audience to harness the power of their own personal networks to instantly build a sense of community and appreciation for the brand being endorsed. The key is to create and deploy a well-integrated marketing communications strategy that goes beyond awareness of the campaign. Messaging must be targeted, personal, constant and consistent to sustain the momentum and energy within the broader community of participants globally.
Understanding what appeals to your audience is an effective component to connecting the brand across geographies, markets, industries, functions, and global platforms. The Deloitte Fantasy Football campaign is also a best practice on how organizations can make the brand personally relevant to its target audience.

Results:
The success of the Deioitte Fantasy Football campaign was measured on the level of engagement achieved within Deloitte's global network of member firms and its ability to stimulate dialogue and motivate action. There were a total number of 34,000 participants that registered to play the game in more than 160 countries through this grassroots campaign. More than 60% of the Deloitte workforce participated in the competition, complemented by a respectable level of client participation at 34%.
During the month-long campaign, more than half a million unique online visitors came to the Deloitte Fantasy Football website from 162 countries and territories. Fifteen percent of these visitors were new to a Deloitte website. Each visitor spent an average of 7:38 minutes visiting the website, which amounts to a remarkable total of more than 4 million page views. Lastly, the Deloitte Fantasy Football campaign directly impacted Deloitte's overall social media profile. In fact, the official Deloitte Facebook page during that time grew its fan base from 22,000 to more than 77,000 active users. As a result, Deloitte a now has the largest global Facebook presence among its professional services competitors.