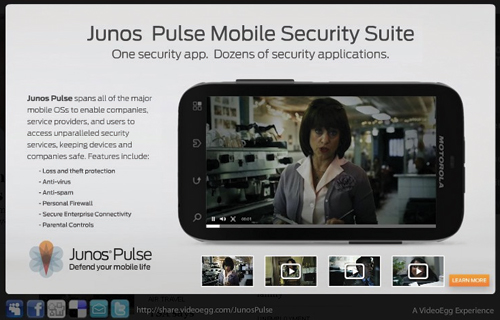 SILVER — JUNIPER NETWORKS JUNOS PULSE CAMPAIGN
Entrant Company: JUST MEDIA

Category: A Global campaign running in multiple regions
Credits:
Dick Reed, CEO- Just Media
Alan May, Media Director- Just Media
Dale Viger, Media Planner- Just Media
The Situation: Juniper were seeking a broad announcement of the product's launch, targeting enterprise, service providers and consumers. They also needed to reiterate their mobile security suite message at MWC2011. Targeting October 2010 as the launch date, Juniper was looking at evaluating venue and partners/customer references to maximize the impact of the news.
Insight and Strategic Approach: The Pulse product was the first solution to simply secure, manage and control all smartphones for the Enterprise, Service Providers and Consumers. Always on, Always connected, Always safe.
Mobile has become mainstream:
Online audience 191MM
Mobile audience 75 MM
(source: Nielsen)
We did a quick Linked In Poll among IT pros in the telecom arena. Although a very small sample, it helped provide insights regarding where security is on IT's radar screen.

Media Tactics: The Pulse Campaign was innovative with regards to both media placement and creative execution. While Juniper wasn't officially the first to execute security trays or any of the other formats, there is something to be said about the combination of Out-of-Home formats used and the synergy with the creative concept.
One of the goals of the campaign was to reach business professionals in areas of high mobile device usage. Innovation can be found within our strategy of reaching the target via multiple touch points throughout their journey from Point A to Point B. We didn't just put ads in front of them; we reached them in media channels relative to the brand and creative concept.
Mobile video/banner ads on Blackberrys/iPhones/Androids/iPads
Taxi wraps and video spots inside the taxi
Ads in security trays at airports where the target places their phones, laptops, etc. (the tactic was to appear in places where passengers had longer dwell times)
After security, ads on backlit dioramas, spectaculars, wall wraps, hanging banners, free charge stations and digital screens
While in-flight, ads appeared on in-flight programming (set-back TV screens on multiple airilines)
Also in-flight, Tray Table ads on US Air Flights
When arriving at destinations, similar ad units and messaging throughout the arrivals terminal
Ads at baggage claim on Smarte Cartes

Complementing the Pulse videos in Taxi's, mobile and in-flight video assets appeared on WSJ.com, Video Egg, Wired iPad and Google TV. There were also online assets that ran on sites targeting Service Providers, IT Security and Business Decisions Makers.
How this Campaign may be a Template for World Class Standards We didn't just put ads in front of the target audience; we reached them in media relative to the brand and the creative strategy.

Results:
The campaign is still ongoing, but early results highlights include:
Great frequency on targeted programming (BBC World News, Top Gear, Countdown with Keith Obermann, O'Reilly, America's Newsroom).

Increase in overall site traffic.

Improved site interaction metrics (Bounce Rate, Time on Site, Pageviews, etc.).

TV and online synergy.