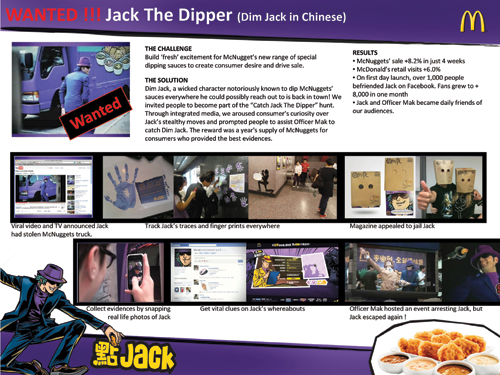 Bronze — McDonald's Hong Kong
"Catch Dim Jack the Dipper"

Entrant Company: OMD Hong Kong

Category: A Local Brand or Service in a Local Market with innovative media solutions worthy of international adaptation or world class standards

The Situation: In Hong Kong, McDonalds launches new dipping sauces every year to drive sales for their McNuggets. This year, a new range of special dipping sauces was launched.
During the year under review, the HK economy continued to recover from the economic downturn caused by the financial crisis. For the F&B retail sector, competition remained very intense and consumer spending had yet to see a major rebound. In general consumers were still quite cautious in their out-of-home meal consumptions and were heavily driven by promotional activities. Our challenge was to build fresh excitement towards McDonalds? routine dipping sauce promotion to re-ignite the consumer desire to drive sales.

Insight and Strategic Approach: Although the target audience for this campaign was quite mass, we wanted to communicate with a core group of young people aged below 25. This group loves to have Chicken McNuggets for its familiar taste and its sharable, dipping fun. Both McNuggets and the sauce go together making an enjoyable experience.
We leveraged youth's eagerness to try out new things, and their willingness to share. We capitalized on viral power to create excitement for the dipping sauces.
As a result, we created "Catch Dim Jack the Dipper" campaign to appeal to young consumers. Dim Jack ("Dim? is the word for "dipping? in Cantonese) is a wicked character notoriously known to steal McNuggets? sauces for its irresistible taste whenever and wherever he can. We invited people to become part of the "Catch Dim Jack the Dipper" hunt.

Media Tactics: We aroused consumers' curiosity over Jack?s stealthy moves and prompted people to assist Officer Mak to catch Dim Jack. We used an integrated approach in media to create interest in the hunting Dim Jack with the help of Officer Mak. In other words, there was an interesting story that was created and consumers were engaged in every step.
"Catch Dim Jack" started with a viral video on social network and TV, showing the villainous Jack stealing a McDonald?s delivery truck, and driving through the streets of HK. This was followed by a public appeal from Officer Mak, the detective tasked to track down Jack. He asked the public to provide clues to Jack's whereabouts, by snapping real-life photos of Jack and his stolen truck with their mobile phone, or leaving clues at our campaign website. The reward was a year's supply of McNuggets for the best evidence collector.
Over the campaign period, Jack drove the stolen truck throughout HK, and left clues in subway stations and McDonalds retail outlets. However, the most vital clues to Jack's whereabouts were given on his Facebook page, as well as on Officer Mak's Facebook profile page.
Facebook users could ask the characters questions directly, and in doing so, gained even more vital clues. Therefore, for this campaign, use of media was to create a story and engage consumers in a big way.
How this Campaign may be a Template for World Class Standards This campaign is an example of how excitement can be created in a low interest category/product. The challenge here is that not many consumers think of dipping sauce while buying McNuggets but they do relish the taste. Therefore, to create excitement and relevancy for the product can make a critical difference to sales.
The campaign demonstrated the power of integrated media in spreading awareness and word of mouth by creating fun. Throughout the entire campaign, consumers are engaged in every step by following each line of the story to catch the notorious character. However, the unique point of the campaign was not to spread awareness of Jack, but heighten the importance of Jack in the context of the dipping sauce.

Results:
McNuggets? sale grew by +8.2% in just 4 weeks.
McDonald?s retail visits up by +6.0%, at the time where HK consumers spending is rebounding from the economic downturn caused by global financial crisis.
More than 1,000 people befriended Dim Jack on Facebook within 24 hours of campaign?s launch. Fans then quickly grew to + 8,000 in one month! Jack and Officer Mak became daily friends of our audiences. This has established a deeper consumer involvement for our routine dipping sauces, and the McDonald?s brand as a whole.