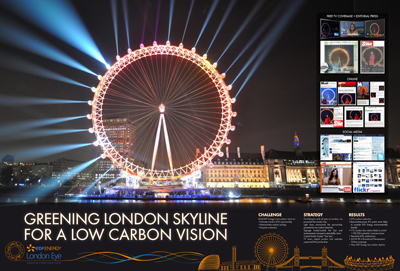 SILVER — EDF Energy "Greening London Skies", MPG-Media
Contacts UK
EDF Energy believes that climate change is the most pressing challenge facing the world today and has developed a long-term vision for their company of a low carbon future. To promote this EDF signed up as the first sustainability partner of London 2012.
With all eyes on London during the Olympics, the city's iconic skyline became the platform to tell the story. The first of five activations to launch was the London Eye in January 2011. Commuters were treated to a spectacular light show announcing EDF Energy's official sponsorship of the London Eye. This 'sunrise before daybreak' helped drive coverage on TV news programme and in national newspapers. Capital Radio's Johnny Vaughan hosted the largest game of "Eye Spy" describing London's iconic landmarks to callers for a chance to win eco-friendly prizes. EDF secured coverage on ITV's daybreak which drove £81k worth of PR value via mentions throughout the programme, news and a full shot of the London Eye filmed for the weather report. Onsite messaging inside pods, reception areas, tickets and on official websites communicated EDF's vision to the Eye´s +3.6 million visitors.
The sponsorship delivered over £615k+ worth of PR value immediately including national TV news, 29 newspaper editorials and 173 websites. Consumers aware of the sponsorship are 8% more likely to agree that EDF Energy is environmentally responsible, and 11% of non-customer London Eye visitors were likely to switch to EDF Energy – 190,000 potential extra customers per year.