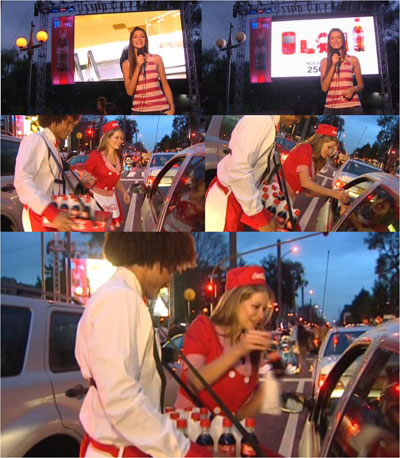 Bronze —
Coca-Cola Mini—"Drive-in Cinema," Starcom, Columbia
The average citizen of Bogata spends nearly 2 hours a day in terrible traffic jams. To launch Coke's Mini serving size, (250 ml) Coca-Cola, as the worldwide Happiness Ambassador, decided to change a miserable situation into a fun experience. At intersections known for the worst gridlock took, Coca-Cola purchased billboards and used them as screens to project short films during commuting times. A local radio station was secured and consumers were alerted to tune-in from their cars. To complete the entertainment experience, roller skating waitresses served free popcorn, hot dogs, nachos and of course, coca-cola! The events were amplified by local news coverage, and streamed live on entertainment-focused sites, social media blogs, and Facebook. Content generated during and after each show was shared and enhanced by other commuters who were wishing for their very own 'unexpected happiness' experience with Coca-Cola.
In total, more than 9 million Columbians were exposed to the events through news and press coverage.