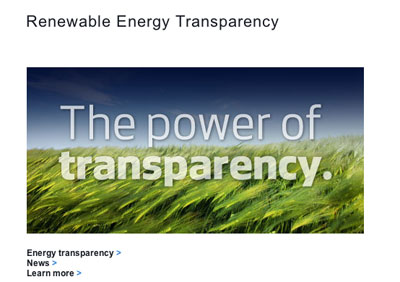 GOLD—Vestas Energy, Denmark—"Transparency."—Vertic- NY, Copenhagen, Singapore
Vestas – the Danish wind energy company -- believes that transparency in energy consumption enables consumers to make sensible and informed choices, which in turn will put pressure on corporations to act.

To increase transparency, Vestas created the "Global Consumer Wind Study" that provides insight into the role of renewable energy in relation to the products and services we consume. –Simultaneously, Vestas partnered with Bloomberg, to launch the global Corporate Renewable Energy Index (CREX), which ranks the use of renewable energy by the world's largest corporations.

Dubbed "Transparency 1.0" this innovative marketing campaign stands on the sweet spot between corporate social responsibility, marketing and business development. Selected individuals from 50 companies received a special issue of Bloomberg BusinessWeek with a customized cover and company customized information from the two studies. LinkedIn InMails were sent to 300 selected LinkedIn members from 23 companies. Both media sources drove traffic to EnergyTransparency.com, a website with company-specific information on consumer perceptions and wind energy usage. The campaign was also supported with print and banner advertising driving consumers to the general site.

Four weeks after the launch of the campaign, 26 individual URL activations took place, significantly exceeding the KPI of 15. Banner and InMail conversions significantly exceeded market norms, and the site received 4,757 unique visitors, spending an average time of 1m, 46 sec. The campaign shows the incredible impact a company can make when partnering with mass channels on micro-targeted campaigns.