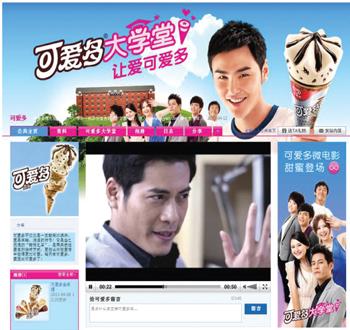 GOLD — Cornetto "School of Woo", PHD Shanghai
In China, social media sites don't list user's relationship status and university students spend hours pouring over profiles trying to find out who's dating whom. This became the insight for the country's number one ice cream cone brand to strengthen affinity among university students for Cornetto's More Loveable brand expression of love and drive summertime frequency.

The Cornetto School of wooing was a social tutorial for the art of wooing that leveraged the target's love of mining social media data and for entertainment during the long summer months. Launched with a series of seven branded online microsodes on branded microsites across two of China's largest social networks, QQ and RenRen, the audience was dropped into the middle of mini-films featuring groups of co-eds, with each attempting to woo someone within the group. At the end of each microsode, Cornetto asked the question: 'Who's Wooing Whom?' Audience guesses immediately appeared in their own status update 'XingFei has the hots for Kate!' which created a 'Top News Event' and helped to spread across the social networks.

The micro-movie format delivered significant online visibility, with a total of 45 million video views delivered, directly contributing to a 28% online awareness, and lifting un-aided brand awareness by 6%. Giving Cornetto a relevant and active role in consumer's lives strengthened brand affinity and proved to be Cornetto's most successful summer in China to date with a 47% increase in year on year sales growth vs. 2010.