SILVER — Star Alliance—"Biosphere Connections," MEC Global Solutions, London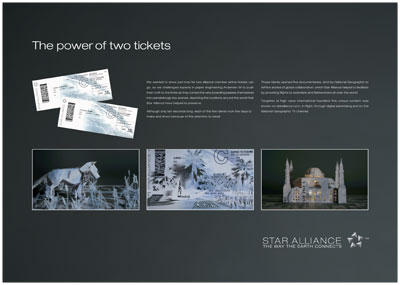 Star Alliance has unrivalled experience in bringing together competitive airlines and helping them work collaboratively for mutual benefit. Realizing the High Value International Travelers are more likely to admire a brand that takes a "responsible'" attitude on environmental issues, Star Alliance leveraged its association with Biosphere Connections as the basis for a multi-media marketing platform.

Star Alliance brings together Biosphere Connection project workers and scientists from all over the world together, through international flights, to work collaboratively on local environmental initiatives.

National Geographic created a multi-platform program around the great things that can happen when global organizations collaborate and work together to help the environment. Through film, print, television, digital, and social media, Star Alliance was able to illustrate its capabilities and expertise while at the same time demonstrating its commitment to the environment.

By harnessing the power of collaboration, the campaign exceeded all expectations, including a CTR of 6.1% on online video,
and a 60% increase in new "likes" on Facebook.