SILVER — Peroni—"Summer Styles," PHD Canada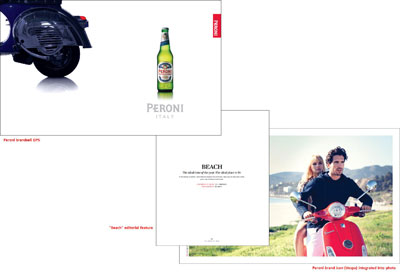 Facing aggressive and ever-increasing competition from upscale local and import brands, Peroni needed a unique way to launch into Summer and penetrate the inevitable glut of big-budget seasonal beer advertising, while remaining true to the brand's core essence: 'Italian style applied to beer'. They found just the right touch by partnering with Sharp magazine, the Canadian men's authority on style and fine living,
Over the course of three summertime issues, Peroni and Sharp created a Canadian first-ever 3-D fashion shoot, complete with elegant, stylish Peroni brand integrations; incorporated Peroni brand icons like a Vespa and Gucci sunglasses into fashion features with Peroni bottles preceded by a DPS, and created a three-part series of branded editorial articles titled "A Peroni With…". This collection of interviews featured Canadian tastemakers and style influencers, and was conducted over a bottle of Peroni at their favorite bar or restaurant. For example, part one showcased renowned Canadian fashion designer Philip Sparks at The Rushton, in Toronto, discussing style, inspiration and summertime relaxation.
In addition to generating industry buzz for our market-first 3D photo shoot, the campaign drove real growth for the brand. Peroni grew by 33% year-over-year, while the Canadian beer industry as a whole decreased more than 8%.