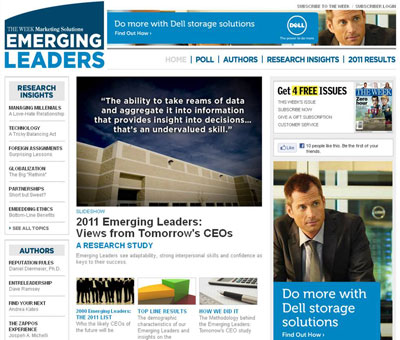 Bronze —
Dell—"Emerging Leaders," MediaCom US
In 2011 Dell found itself at a crossroads. The world's number two PC seller was well-known in the consumer space, but since its acquisition of Perot Systems and several small companies, Dell had also become a major player in business technology services. To expand awareness and support the Dell brand as appropriate for business customers as well as consumers, DELL launched it first brand campaign in 27 years with the tagline "the power to do more."

As part of the campaign, DELL partnered with THE WEEK magazine on a unique multimedia marketing campaign, Emerging Leaders. Though primary and secondary research 10-year trends in CEO recruitment were identified and used to create a list of 2,000 Emerging Leaders: CEOs of Tomorrow. These leaders were then interviewed on a variety of business topics. The results became the basis for a content-rich microsite housed at theweek.com/emergingleaders, custom content adjacent to Dell print brand ads in THE WEEK magazine, and a leadership event in New York.

In the first five weeks of the campaign, the Emerging Leaders microsite generated nearly 100,000 pageviews, and an above average clickthrough rate of .29%. Over 70% viewed the campaign as informative, and are more likely to seek further information about the content.