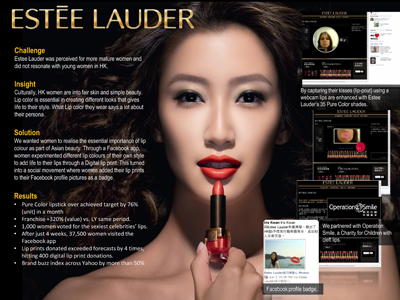 SILVER — Estee Lauder—"Pure Color," M2M Hong Kong
Estee Lauder is a leader in the premium beauty category in Hong Kong, used mainly by older women. When they sought to target younger women with a new lipstick line ("Pure Color"), they brought new media with a charity element into the mix.

Hong Kong women were asked via online banners which celebrities' had the sexiest lips. This served as a way to inspire women to desire for their own luscious lips.

The desire was answered by a Facebook application where consumers could experiment different lipstick colors. By capturing their lips using a webcam or by attending Estee Lauder's mall event, their lips could be enhanced with any of Estee Lauder's 35 Pure Color shades. Estee Lauder created a social cause that went viral by partnering with Operation Smile, a local charity for children with cleft lips, and donating HK$5 every time a consumer entered their enhanced lips to a gallery on Facebook, where Estee Lauder would appear on newsfeeds and alerts.
More than 37,500 women visited the Facebook app and the number of lips prints donated exceeded forecast by 4X. Most important, the new Pure Color lipstick over achieved sales volume 76% in just one month.