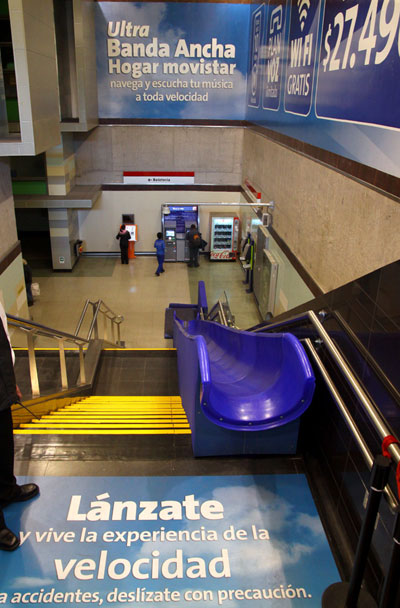 Bronze —
Movistar Broadband, Starcom Chile
Home broadband access is a crowded market in Chile, with many competitors using aggressive pricing and promotions to lure customers. Movistar needed to find a creative way to increase sales on home broadband plans as growth stalled.

To highlight their competitive differentiators – service and lightning fast speed – Movistar chose to help time-pressed commuters get to their destinations faster by installing slides on the staircases of Santiago's busiest subway stations during rush hour periods. Supporting the high impact promotion was a strong multimedia plan and OOH elements positioned closely to the slide, increasing visibility and branding. The old-fashioned promotion for a very modern product was an instant hit, generating huge press and PR coverage, social media conversations and positive goodwill towards Movistar. The company was able to reverse sales declines, and sales grew 3% during the promotion period.