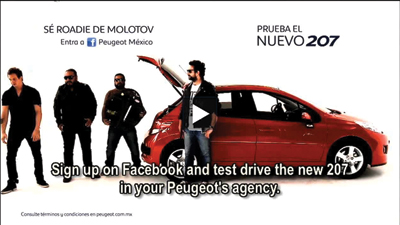 GOLD — Peugeot "Roadie," Havas Sports
& Entertainment, Mexico
After years of lackluster sales in Mexico, Peugeot was all but ready to pull its presence from the country. However, insightful market research, and an innovative media campaign/contest were able to boost the car company's presence and keep the company in Mexico.

Focus groups with young Mexicans who were in the process of buying their first car found revealed the most unique attribute associated with the Peugeot 207 is adventure in travel.

From these findings, Peugeot developed a promotion where two lucky consumers could win a trip to France and spend a week as Roadies with one of Mexico's daring rock bands, Molotov. What could be more adventuresome than that? A mass media campaign directed users to the Peugeot's Facebook page. At the brand page, consumers scheduled test drives and photos were taken of participants test-driving the Peugeot 207. These photos were then uploaded to Facebook where users voted for their favorite test drive pictures. The candidates with the most votes passed to the final round: During an intimate secret show, Molotov personally handpicked the two lucky roadies with enough guts and bravado to work for them on their European tour, through private interviews with each candidate.

The promotion was an astounding success. Peugeot stayed in Mexico after dealership traffic increased 40% and sales are surpassed objectives by 15%. category video worldwide during the campaign's first week, and top trend topic in Brazil.