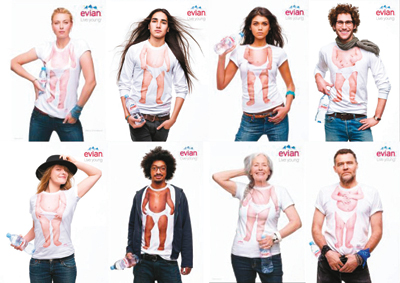 GOLD — Evian "Live Young," MPGMC US
When Evian needed to reverse a decade-long sales decline in the US with a small marketing budget, they turned to fun creative and viral, interactive marketing to get the word out.

"The Baby Inside" is a 60:second commercial that uses stop-motion technology and is based on the simple principle of childhood flipbooks. Men and women, wearing a t-shirt printed with babies in different poses, appear one by one to the beat of the music, creating the illusion that the babies are dancing. The video quickly picked up popularity on YouTube, Evian's Facebook page and Vimeo.

In the creative, consumers are invited to co-create Evian content while "living young." Using their web cam or iPhone app, consumers recorded themselves in a sequence of four frames and uploaded them to our custom site to be added onto "the longest music video ever." Users wore an actual Evian baby t-shirt or picked from virtual varieties that were superimposed onto their bodies. Hosted on LetsBabyDance.Evian.com, the combined video was also accessible from a link on the 60-second spot. To date, the video is over six hours long and includes clips from more than 20,000 participants. An innovative digital OOH program in Chicago, and New Year's Eve parties in Miami and Los Angeles also supported the effort.

Amazing the kind of results you can get from having a baby dance -- more than 2.6 million US consumers watched the video online, and assisted awareness grew by 16 points. Sales volume increased 30% in Manhattan and 34% in Chicago during the campaign period.