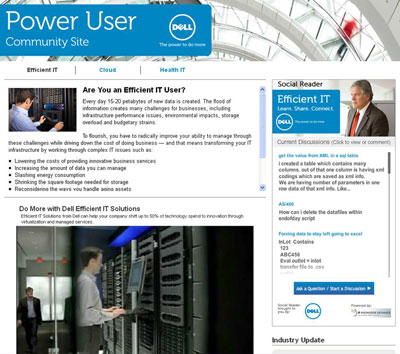 Bronze —
Dell—"Empowers Social Reader," MediaCom US
When IT buyers seek and acquire information for their field only, they traditionally do so passively, by downloading white papers or viewing streaming media.

To support their effort against corporate IT buyers, Dell partnered with Tech Target to create a more dynamic, real time solution. The Dell Social Reader is a social collaboration tool enabling IT buyers to participate in real-time online discussion with peers on a wide assortment of IT topics. The social reader was accessed from a variety of platforms, including an embedded application in Dell white papers, expandable rich media ads and an interactive module on Dell's custom-built community site. The integration of real time peer-to-peer social networking within multiple media formats is a first-time innovation for the IT online marketplace.