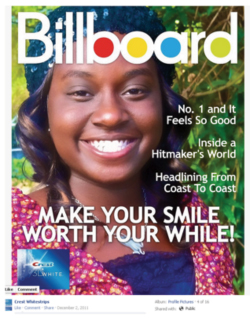 GOLD — Crest 3D White Strips, SMG, MSL, Publicis
Crest 's new 3D White Strips were so effective, research showed consumers simply didn't believe the brand's claims, even though they were true. For the launch to succeed, Crest realized they needed to transform a skeptical audience into evangelical believers.

The launch stategy featured a three-pronged approach. First, they sought out and received endorsements from key beauty editors and other influentials within the beauty industry. Among the compelling endorsements they received from Beauty Editors were Best of Beauty awards from Elle, New Beauty and Shape and the prestigious Allure Reader's Choice Award. 350 testimonials endorsing the product were driven by the highly credible Daily Candy beauty blog alone, which they cascaded to retailer sites, Facebook and YouTube. Endorsements also came from consumers -- one tactic had consumers make a Billboard cover with the consumer as the cover star. Another tactic combined media and consumer activation in a 'Perfect Profile Photo Party' where consumers participated in hair, make-up and styling activities, whilst wearing Crest 3D Whitestrips. The event culminated with professionally taken photographs which were instantly uploaded to Facebook. Secondly, Crest amplified the endorsements by including them across in their mass media TV, FMOT and Print. Finally, the effort was accompanied by a digital push that provided expert endorsements and technical explanations consumers needed to convince themselves that Crest's claims were substantiated scientifically.

All those endorsements and smiling faces paid off handsomely, with Crest White Strips Volume Growth hitting a 151 index, exceeding its targets, and outstripping category growth by 5 times.