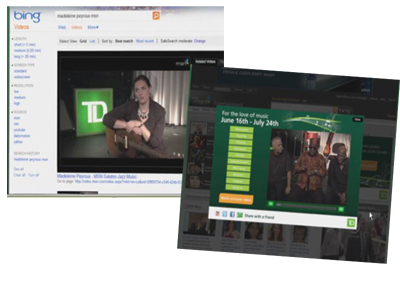 GOLD —TD Bank—"Jazz Festival,"—
Starcom MediaVest Group Canada
TD Bank is recognized for award-winning customer service. They also have more high-value online banking customers than any other Canadian bank; customers whose loyalty is at risk because they don't experience TD's friendly service first-hand.

TD determined their target has a passion for music and live concerts so they leveraged their already established sponsorship of jazz festivals throughout Canada by partnering with MSN to go beyond festivalgoers. From distributing exclusive acoustic jazz videos, to MSN's homepage promoting the Montreal Jazz Festival, MSN served valued jazz content in, all sponsored by TD.

A total of 122 million impressions were delivered, exceeding original estimates by more than double, on a budget of under $100,000.