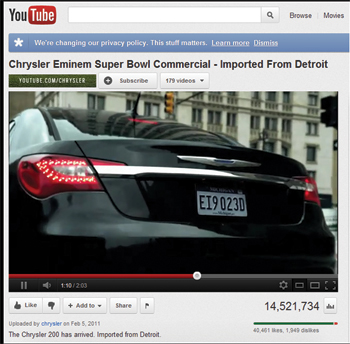 GOLD — Chrysler—"120 Superbowl,"
UM US (Detroit)
Going into 2011, Chrysler was a battered company. Consumers, auto enthusiasts and experts questioned the Quality Reliability and Dependability of the cars the company manufacturered. The 2008 bailout allowed Americans to inquire about the company's financials, management, and service, and it was eventually bought by Fiat.

Chrysler realized that they were indelibly tied to Detroit – a city synonymous with failure. But that was an old notion -- the American auto industry had turned around, Chrysler set out to celebrate the Motor City and its pride in being made in America in a dramatic, never-been-done before 2 minute spot on the Superbowl. With a narrative by Clint Eastwood and and a unifying message of hope – with Detroit leading by example – Chrysler turned a negative into a positive to dramatic results.

Response was overwhelming. The spot was the number 2 Google trending topic, and the spot received 11.5 million hits on You Tube. More than selling cars or a brand, Chrysler sold a second half to the American success story.