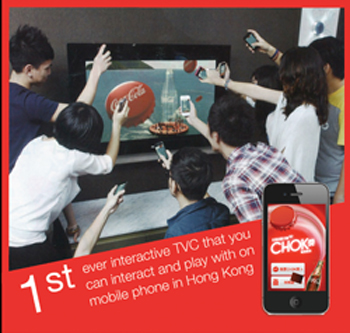 GOLD — Coca Cola—"Interactive TV," UM Hong Kong
Even with dominant market share, recruiting new Coca-Cola drinkers remains a core objective. When Coca-Cola realized that Hong Kong teens were spending less time watching TV and more time playing games and sharing with friends on their mobile phones, they knew they needed to break free from traditional one-way television advertising and find an interactive way to engage this audience.

Coca-Cola seamlessly integrated the modern capabilities of mobile apps with the traditional channel of TV. With a dedicated Coca-Cola 'Chok' app installed on either iPhone or Android smartphones, the mobile phone became the "remote" to their 'never-been-seen-before' interactive TV commercial. It allowed consumers to swing their Coca-Cola 'Chok'- enabled phones in front of their TV screens to capture flying bottle crowns from the Coca-Cola TV commercial ("chok" is a Hong Kong colloquialism meaning to 'swing it'). Consumers could then immediately enter into an instant-win sweepstakes with prizes including cars, sports apparel, credit card spending value, travel coupons, movie tickets, and many more fun items. Additionally, the Coca-Cola 'Chok' mobile app included built-in branded wall papers, mobile games and more. It quickly became 'the teens' favorite app. In addition to showing off the prizes they earned to their peers, they could also share and open happy moments with their friends through our network-enabled mobile games. In doing so we fully leveraged the potential of mobile as a platform to engage with teens.

The innovative integration of mobile and TV is truly first of its kind in Hong Kong. It refreshed teens and allowed them to literally interact with Coca-Cola in a way never been done anywhere in the world! Most importantly, it worked to increase sales. Teen penetration of Coca-Cola increased from 78% to 83% year-over year and total sales increased 12.5% during the campaign.