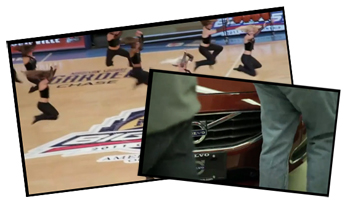 SILVER — Volvo/North America "2010 S60 Tour," Havas Media
Volvo traditionally targets older consumers who value safety. But with the re-launch of the new Volvo S60 – a sportier, more performance-driven car than previous models - Volvo wanted to start a conversation with a younger audience to raise awareness of the redesigned vehicle.
Big East University teams (including the likes of Syracuse, Villanova, Georgetown, etc.) have made 16 Final Four appearances, won six NCAA Championships and have notoriously loyal fans. By focusing the Volvo conversation in social media and activating a core group of digital influencers from each of the Big East schools, Volvo aimed to tap into the sport passion and strong alumni ties of 16 "Super Fans" who were highly active online to participate in a groundbreaking social media-focused competition to find the "Biggest Fan of the Big East" while at the same time generating conversations about Volvo at MyBigEastVolvo.com.