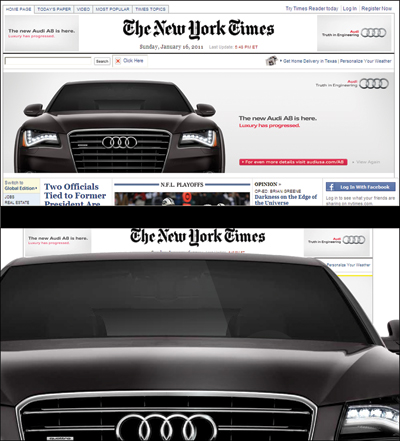 SILVER — AUDI of America—"Sunday Strategy," MediaCom US
With little consideration and a small market share in the category, MediaCom knew they had to something special to launch the Audi A8 in the US, and help Audi reach their goal of being the #1 luxury auto by the year 2015.

Keen market research discovered that the target – those with annual income exceeding $100,000 – consumed more media on Sunday than any other day of the week. So Audi set out to own Sunday…and they did!

From enjoying that first cup of coffee with the target through newspaper advertising in the morning, to Sunday TV talk shows and innovative NFL sponsorships – including the first-ever YouTube homepage takeover on Superbowl Sunday – Audi spent their entire budget only on Sundays following the target throughout the day.

To impressive results. Search query volume jumped 51% on Sundays with an additional 500,000 site visits directly attributable to the Sunday strategy. Most importantly, Audi A8 took 10 market share points and helped Audi finish the year with record sales.

Putting media to work on Sunday paid off for Audi.