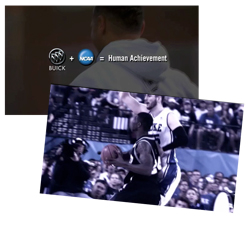 SILVER — Buick—"Human Highlights Reel," Starcom MediaVest Group, Chicago
In 2011 the Buick brand faced a crossroads. Much of what the brand stood for, and the platforms used to promote those brand attributes (ie., golf) had become irrelevant as the luxury market changed. To the new breed of luxury consumer, money is a necessity, but more important are accomplishments and life stories that separate one from their peers.

To reposition the brand, during the 2011 NCAA Tournament Buick created the Buick Human Highlight Reel, a series of stories of former student athletes that are doing amazing things for the world at large after their college careers have ended. The student athletes featured were often people the target admired for their athletic achievements in college and even though they never played professionally became successful in other aspects of life.

The stories appeared as short form videos run on-air during games that drove to longer versions at www.ncaa.com/buick as well as a 30-minute custom branded TV show sponsored exclusively by Buick run prior to the Final Four games.

The campaign resulted in Buick brand recall during the tournament 27% higher than the norm and 76% higher than other Buick media. During the quarter for the NCAA tournament, Buick sold more cars than any other since 2007 despite no new car introductions for the period.