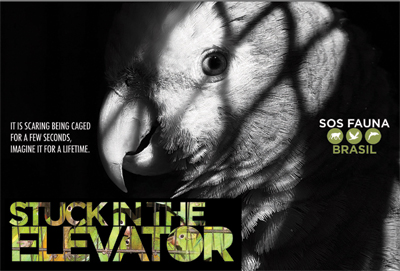 GOLD — Fauna SOS "Elevator", Media Contacts Brazil
Every Sunday, in outdoor markets surrounding Rio and Sao Paulo, thousands of exotic animals are illegally traded. Trapped in the jungle, caged and sometimes abused to increase their price, the animals are hawked by children and adolescents who are protected by statute as juveniles.

For ten years SOS Fauna has been fighting for the abolishment of animal trafficking. To dramatize their point, the organization "trapped" people in elevators throughout Sao Paulo's main commerce districts for a few seconds. Hidden cameras recorded the passengers inside and saw panic unfold. When the doors opened, and the passengers experienced a sense of freedom and relief, SOS ambassadors greeted them and handed out flyers with a simple message: "It's scary to be caged for a few seconds. Imagine for a lifetime. Report animal abuse. SOS Fauna."

SOS Fauna took the video footage and created a compilation video that immediately spread virally on Orkut, Facebook and Youtube, redirecting traffic to SOS fauna website and the Fauna Youtube channel. It was so popular that it became the most-tweeted non-profits & activism category video worldwide during the campaign's first week, and top trend topic in Brazil.