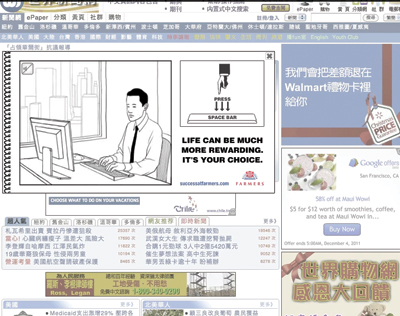 SILVER — Farmers Insurance—"Recruitment Digita," IW Group, Inc. US
For more than five years, Farmers Insurance has targeted Chinese-American consumers because they realize a significant business opportunity. The next logical step was to grow their multicultural sales force.

To recruit more first generation Chinese immigrants to open their own Farmers Insurance agency, Farmers created ichoosefarmers.com/upgradeyourlife. At the landing page consumers were introduced to Ken, who personifies the everyday employee who feels stuck in an unfulfilling professional life. Consumers can help Ken choose "An Awesome Life" or "Not so Awesome Life." Traffic was driven through an optimized mix of rich media banners, interactive video, standard banners, and retargeted media on major in-language newspaper sites. Creative was both in English and Chinese. By establishing a strong emotional bond with a culture that values entrepreneurship, and maximizing response with a mix of online creative, Farmers achieved 5 to 7.5 times the industry average click through rates during the 10 week campaign and showed positive results in terms of engagement of the successatfarmers.com website.