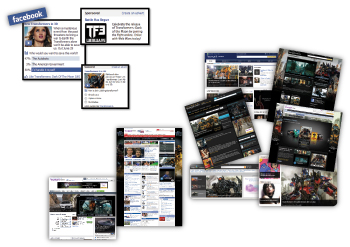 GrandPrix —Paramount Pictures International—"Transformers: Dark of the Moon,"MEC Global Solutions, London
The stakes when Paramount set out to premier Transformers: Dark Side of the Moon. With heavy competition in a cluttered summer blockbuster season, to meet the expectation of international box office sales of US$1Billion, they knew they needed to do something big and bold to re-energize the franchise and become THE film to see that summer.

By successfully associating the DNA of the movie with a naturally occurring solar eclipse a few days before release, Paramount was able to mount a truly global campaign on an inter-stellar stage. SLOOH – a robotic telescope – exclusively streamed the event online, which became the landing page for Google's themed doodle (the Google image present on Google's landing page). The Transformers sponsorship ran as a global placement in all Google markets and the movie's trailer was available as a clickable ad unit on the SLOOH Mission Interface, the SLOOH Android application and YouTube streaming channel.

Transformers: Dark Side of the Moon, helped by more than 60 million pageviews from Google, achieved a worldwide box office take of $1.1 billion and is now the fourth highest worldwide grossing movie of all time and Paramount's highest grossing international release ever. With so many films shouting for attention simultaneously, the Transformers: Dark Side of the Moon campaign shows it's not about who shouts loudest, but who shouts smartest.