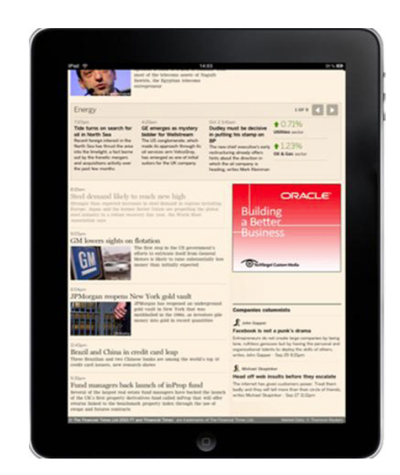 Bronze —
Oracle—"Building a Better Business,"
Zenith Optimedia London
With the purchase of Sun Microsystems in 2010, Oracle is now in a position to provide both software and hardware solutions. To market this new capability pan-regionally in Europe, Oracle created a new kind of partnership. A stand-alone URL was created, populated with tech whitepapers from market leading technology publisher Tech Target and business video and news from the Financial Times. Both publishers helped drive traffic to the site, which was in English with local language tabs, and tested on both WAP and iPad formats for mobile users. In this way Oracle gained the international reach needed as well as successfully positioning Oracle as the hardware & software solution supplier to both a Senior IT and C-Suite audience. The partnership allowed for the flexibility needed to tailor content and messaging to specific key European markets while, at the same time, achieving the "halo" effect of positioning Oracle as a sound software AND hardware provider to a broader audience.

The results were best-in-class by any measure. The portable sites performed especially well, with time spent as long as five and a half minutes. This unique way of communicating to these two audiences resulted in 13,061 responses delivered, exceeding the guaranteed volume by18%. This equates to $4.6MM in revenue pipeline, and a 400% ROI. Additionally, valuable insights into the target's content consumption were gained, with more interest in video, increased receptivity on iPad and mobile and consumption of technology content from the business audience.