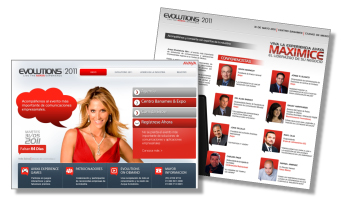 Bronze —
Avaya Inc.—"Evolutions Tour"
Avaya wanted to allow thousands of prospects, customers and partners to personally experience Avaya business communications solutions and learn about the benefits of doing business with the company. So they created Evolutions – a live tour whose considerable impact was amplified by creative use of social media.

Evolutions was implemented in several countries with centralized resouces and localized deployment using standardized image and messaging. The Evolutions Tour visited Mexico D.F. and Monterey (Mexico), Santo Domingo (Dominican Republic), Toronto (Canada), Sao Paulo (Brazil), Bogota (Columbia), and Buenos Aires.

At each stop on the tour is promoted through local in-language Facebook pages and Twitter feeds. The events are also live streamed. At each event, a prize is offered to the person who tweets using the hashtag #AvayaEvolutions the most.

The events themselves feature not just an Avaya exhibition and information on products, but outside experts speaking on technology trends, Avaya customers' experiences and special keynote speakers.

As of January 2012, 10 Evolutions have taken place, attracting 13,500 attendees and 23,000 registrations and influencing million of dollars and buying decisions. The #Avaya Evolutions has been Tweeted over 12,000 times.